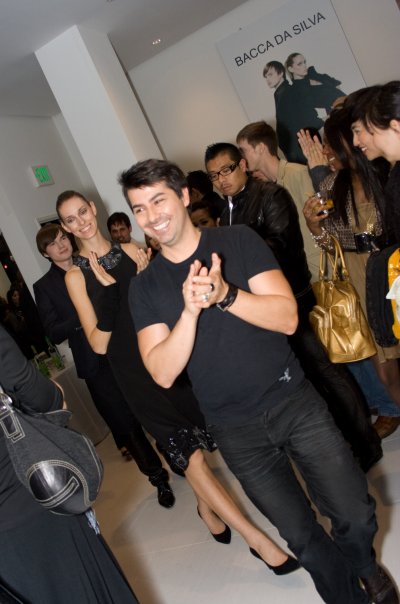 Founded in 2004 by the Brazilian-born Bacca, the up-and-coming international fashion house Bacca da Silva focuses on incorporating international style and elements of luxury into every day life. Bacca views luxury as a way of living, and emphasizes this emotion in his pieces by combining fine fabrics and elements of hand work into expressions of style and global influence within each seasons' memorable collection.
The expression, the world is your backyard, is taken literally by Bacca da Silva. Based in San Francisco California, the company utilizes material suppliers and craftsman from around the world and views fashion-conscious clients from around the globe as its customers.  In addition to its California headquarters, the company also has representatives in Brazil, London and Beijing. He also garnered the GENART fresh faces in fashion in 2006 and San Francisco Best Menswear Designer at Stellar San Francisco Fashion Fashion Awards 2010 and San Francisco @ CBS News 
RockChiq is a womens ready to wear clothing line targeted to age group 18-45. Indu Arora is The Creative director and owner of the brand. IT was launched in late 2008 and is headquartered in Cupertino. RockChiq stands for unique high fashion, rich in color texture, high quality fabrics and very tailored looks for today's confident woman. The brand is very versatile and carries everything necessary for a womens wardrobe from day wear to evening wear .

RockChiq is available at SF bay area stores and the company owned online retail site Pinkweave. Pinkweave is a retail platform for indie designers. To view the entire collection go to www.rockchiq.com and to shop go to www.pinkweave.com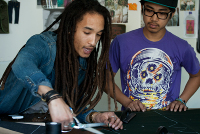 Holy Stitch! was founded on the premise that we are all products of the environments that we call home, the experiences we escape through, the connects and sparks that we share. Whether people, places, or passions, we could not exist without their daily influence.

The Julian Dash Factory Fellowship (JDFF) is a program that fosters the future of our community - its youth - and treats these youth as they are - our successors.

Like clothing, our youth have lives before and after they come in contact with us. This transformation from seed to finished personality happens through our direct influence and is impacted by our touch, our direction, and our lessons. The process is subtle; it's the duty that is overt. We owe it to ourselves to plant the best seeds.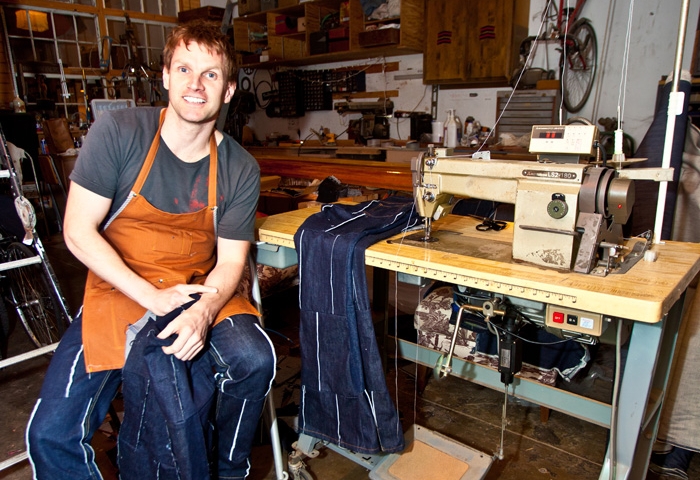 Sonas Denim was founded by Gerry Kelly, an international music festival enthusiast from Ireland now living in San Francisco since 2000. Gerry has traveled extensively, to music festivals around the world, funding himself through the buying and selling of clothing and jewelry to fellow fun-loving travelers. His tastes in fashion were a hit and introduced Gerry to the international fashion world.
—
Topic: "The Business of a Local Fashion Designer". Discussions will include the creative process from design inception to production. Speakers will touch on challenges they face as local designers. How to market products and utilize new technologies. Tickets are available at the door or online for $10 at http://fashionmashup05192011.eventbrite.com/
About FASHION MASH-UP: Our mission is to provide an open dialogue/forum on how to develop innovative solutions to become better business entrepreneurs. This workshop was developed as a platform to discuss the business of fashion and arts through the utilization of current business models and technologies. As a thriving epicenter of independent talents, 'FASHION MASH-UP" features local entrepreneurs, fashion designers, bloggers, retailers and techies in an effort to brainstorm and share new business solutions and to create an exchange network amongst peers in San Francisco's fashion and art community. 
COMING SOON: THE BEAUTY EXPO, PRET-A-PORTER SF, SAN FRANCISCO FASHION WEEK ™ 2011. Watch videos @ SFFASHIONTV  . JOIN SFFAMA. Read TESTIMONIALS.  View presentations: Branding Your Product With SFFAMA &
Pitch Your Product with SFFAMA