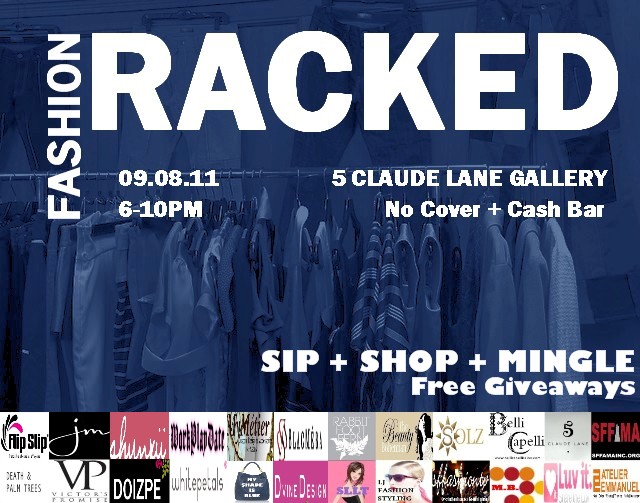 SFFAMA is celebrating the fall season with a trunk show and a networking event for the SF local fashion industry coinciding with 'FNO' on Thursday, Sept. 8th, 2011, at 5 Claude Lane Gallery in San Francisco. After the success of the fashion exhibit during San Francisco Fashion Week, it is again a fitting partnership to host a fun fashion-filled evening.

SFFAMA is hosting a trunk show in support of the local indie designers. We would like to invite you to celebrate the love of fashion with us. Mingle with shoppers, fashion tech entrepreneurs, bloggers, emerging designers and fashionistas alike. During this retail experience, check out the newest local designs, shop for one-of-a kind pieces and meet new contacts and network with influencers in the local fashion industry.

Gift bags will be handed to the first 50 attendees provided by Atelier Emmanuel and Belli Capelli. Doors will be open at 6pm until 10pm. Cash bar. NO COVER.
For questions about media relations or how to get involved with "FASHION RACKED", please email Owen Geronimo @ contact@sffamainc.org.
/ + RETAILERS: BLAC MERA, DEATH & PALM TREES, DOIZPE, DVINES DESIGNS, FLIP SLIP, JEWEL MINT, LUV.IT, MISHMASH, MY METIER, SHUNXII, STELLA DOT, VICTOR'S PROMISE, WHITE PETALS, WORK PLAY DATE.
/ + GUEST HOSTS:  Brad Carrick @ SOLZ SHOES, Jacyn Sibert @ SUGAR LIPS LIFESTYLE TIPS, Laurie Wright @ LJ FASHION STYLING, Leila Seppa @ 5 CLAUDE LANE, Mike Borozdin @ MIKEBZ, Mira Torres @ THE BEAUTY BOHEMIAN, Molly Covert-Rutledge @ RABBIT FOOT FERN